Sculptures inspired by Isle of Man farming crisis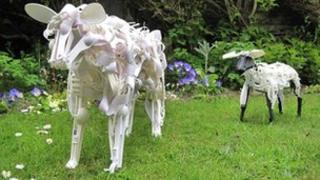 A Japanese artist has donated two sculptures to support Isle of Man farmers after thousands of livestock were killed in the heavy snow of March.
Sayaka Ganz has created a sheep and a lamb from recycled rubbish collected during a recent beach cleaning project.
The artist said the items, which were made from coat hangers, plastic spoons and kitchen utensils, will be auctioned online.
All proceeds will go to the Manx Agricultural Benevolent Trust (IOMABT).
Trust chairman Graham Crowe said the sale was "a wonderful gesture".
"It is a great example of how the impact of the March blizzard and its effect on the Manx farming community has touched the hearts of so many people from different parts of the world."
The auction will begin on Ms Ganz's Facebook page between 13 June and 23 June.