Isle of Man TT spectator seriously injured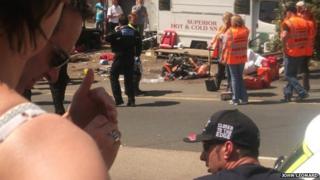 Ten spectators were taken to hospital following a crash on the opening lap of the Senior TT race in the Isle of Man.
Race organisers said "none of the injuries are life threatening although one person has been seriously injured".
It happened on Friday, just after 13:00 BST, on Bray Hill when a rider crashed on the fast downhill section less than a mile from the start.
The rider involved, Barnsley's Jonathan Howarth, sustained a minor fracture.
ACU Events Ltd said in a statement that five spectators remained in hospital for treatment, one in the emergency department.
Witness Stuart Plant described the scene as "chaos" and said he saw "flying debris".
He said it looked like the bike "hit the crowd opposite at some speed".
The race was subsequently red-flagged.
Bike 'disintegrated'
Another witness, John Leonard, said: "I saw the rider comer over top of the hill and he lost the back end of the bike.
"It was fishtailing at phenomenal speed - there was no way he was staying on the bike.
"He slid past on his belly and went all the way through the lights at the bottom of the hill into a lamppost - amazingly, he got up and walked away."
Manx Radio reporter David Harrison, who was also a spectator, said the rider's bike completely disintegrated in the crash.
"The wheel and the petrol tank of the bike flew straight across the road - it actually came over my head, only yards away from us," he said.
"Everyone ducked and screamed and ran away in the panic."
Bray Hill is one of the most popular vantage points for TT spectators.
The race restarted at 16:30 and was won by Morecambe's John McGuinness who set a new race record in claiming his 20th TT triumph.