Summerland memorial planning application submitted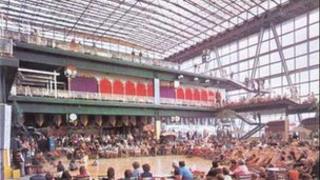 Plans for a memorial to remember the 50 people killed in the Summerland fire in 1973 have been submitted by Douglas Council.
It will be the 40th anniversary of the tragedy on the 2 August 2013.
If the application is approved a three-column memorial would be built in the Kaye Memorial Gardens, at the bottom of Summer Hill in Douglas.
Douglas Council already owns the site which is designated as public open space.
The memorial would be made from granite or a similar natural stone and would be installed in the central shrub border of the gardens.
The Summerland leisure complex had been open for just over two years when the disaster happened.
The fire, sparked by three boys illicitly smoking, killed 50 people and gutted the complex within minutes.
The disaster led to a major change in fire regulations on the Isle of Man and in the UK.