Manx language: BBC children's series launched in Manx Gaelic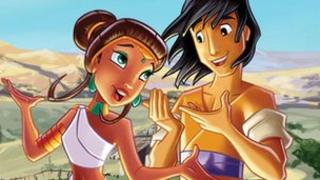 The first children's television series to be translated into Manx Gaelic has been launched in the Isle of Man.
The BBC's animated Friends and Heroes series was first shown on television in 2007 and has since been translated into 11 languages, most recently Manx.
Manx language officer Adrian Caine said the project has taken several years to complete and will provide a "fantastic teaching resource".
Copies of the animated series have been given to every school in the island.
The 13-episode series was produced in the Isle of Man by Ramsey-based Friends and Heroes.
Executive producer Alison Dorricott came up with the idea of translating the series, originally commissioned by the BBC in 2002, into Manx while attending a language course ran by Mr Caine.
David Dorricott, also an executive producer, said: "Alison is a linguist and she was tremendously excited when she attended Adrian's class.
'Vibrant and exciting'
"The stories are a great way to learn the language in a 21st-century medium. Each 25-minute episode comes with English subtitles so you can follow the story and pick up the language."
Julie Matthews, head teacher at the Bunscoill, the island's only Manx-speaking school, said: "It sends a message to the children that Manx is for us today, not just something from the past. To have such a high-quality resource as this is brilliant."
Mr Caine added: "It will hopefully give the language a higher profile and get more children interested. It is definitely an extremely vibrant and exciting time for the language."
In 2009 the Isle of Man's native language was declared "officially extinct" by Unesco, but it has since seen a revival.
Last year Mr Caine was instrumental in the launch of a new app for smart phones and tablets to help people learn the ancient language.
The Friends and Heroes series uses both hand-drawn and computer-generated animation to tell biblical stories, set in the 1st century AD, and follow the adventures of two children, Macky and Portia.
The project, which was funded with the help of the Manx Heritage Foundation, uses a cast of Manx-speaking volunteers, including the island's environment minister Phil Gawne.