Isle of Man snowfall 'heaviest for 50 years'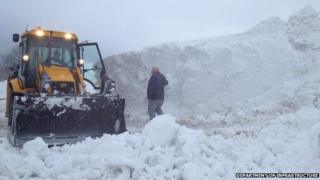 Recent snowfall in the Isle of Man has been the heaviest recorded since 1963, according to the island's meteorological office.
Forecaster Neil Young said: "To our knowledge, these are [the] worst drifts on the Isle of Man for 50 years."
Around 85 homes remain without electricity after heavy snow wreaked havoc with power lines on Friday.
About 700 homes were cut off on Friday. Since then nearly 615 have been reconnected.
Manx Electricity Authority's Director of Network Services Adrian Dobbins, said: "Our target is to have everyone back on by the end of the day [Tuesday]."
Five people were rescued from their homes over the weekend when they were stranded by snow drifts.
'Horrendous conditions'
Supplies were restored overnight to Barregarrow, Douglas Road Kirk Michael, Cronk-y-Voddy, Gordon, Peel and Little London.
MEA Chief Executive, Phil King said "supplies to almost 98% of customers have been maintained".
He said: "It's a one in 50 year snow event with high winds - the worst possible conditions for overhead lines.
"It has been very extreme. We received around 3,000 calls and around 1,000 customers needed help. It has been a huge operation and we have had to prioritise our resources.
"Our teams have worked around the clock in the most horrendous conditions to restore supplies."
Teams are currently working in the Curraghs, Ballaugh, Dalby and Abbeylands areas.
More than a dozen roads on the island remain closed due to the weather including the Mountain Road, Ballamodha and the Switchback Road.
A Department of Infrastructure spokesman said: "Our priorities are to continue working with the MEA and the Emergency Services in order for them to gain access to the most vulnerable".
An assessment of road conditions will be undertaken at 12:00 GMT with many expected to be reopened.
Around 100 people are expected to join a number of coordinated searches at several island farms later to help farmers locate livestock stuck in snow drifts.
The Isle of Man's farming community is facing "catastrophic losses", as the search continues for thousands of animals buried in snow.