Isle of Man snow causes travel disruption and power cuts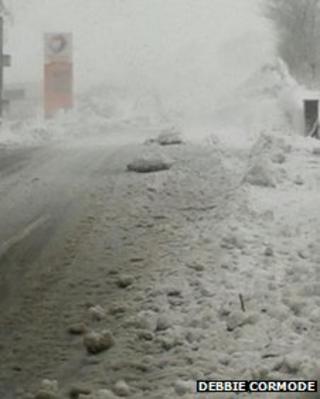 Heavy snow has caused major disruption to the Isle of Man.
Seven hundred homes are without power on the island due to "weather-related faults", according to the Manx Electricity Authority (MEA).
All schools were closed from 13:00 GMT and numerous roads were closed across the island.
Food supplies are being airlifted to the island as the weather has also disrupted scheduled ferry services.
Co-operative Food, which has 10 stores on the island, is using the RAF's Hercules aircraft and will fly from Manchester to Ronaldsway Airport.
It will carry about 18 tonnes of food and drink to stock shops.
Some electricity supplies might not be restored until Saturday, an MEA spokesman said.
The worst-hit areas are from Peel to Kirk Michael and the in the north-west from Ballacain to Ballacriy.
The spokesman added that the MEA was "working to restore power as quickly as possible" and "priority will be given to the most vulnerable".
The Isle of Man Constabulary warned motorists only to make journeys that are "absolutely necessary".
A comprehensive list of road closures is available on the Isle of Man Constabulary's Facebook page.
Steam Packet sailings have also been cancelled.
All Friday's sailings to Heysham and Liverpool have been cancelled, while Saturday's 02:15 GMT ferry from Heysham to Douglas is also not operating.
The operators said a decision on Saturday's other scheduled sailings will be made at 06:00.
The Met Office said gale force easterly winds with gusts of up to 60 mph were expected later and up to 10cm (4in) of snow is expected to fall.