Isle of Man road closures in place due to weather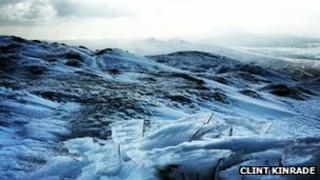 The Isle of Man's Mountain Road is one of a number of roads closed due to snow and poor driving conditions.
The road has been closed between the Ramsey hairpin and the Creg-ny-Baa as has the Creg-ny-Baa back road and all roads leading from it.
The Round Table crossroads up to the junction with the Ballamodha road is also closed due to ice as is the Sloc road in the south of the island.
According to police the situation will be reviewed at 12:00 GMT.
Police have advised motorists to "watch out for standing water and drive with care".
A list of road closures is available on the Isle of Man Constabulary Facebook page.