Douglas council asks businesses to sponsor horse trams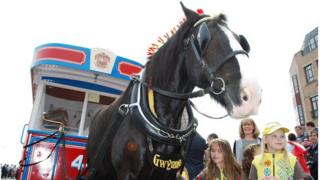 Isle of Man businesses have been invited to partner Douglas Borough Council and sponsor the island's horse tram service.
According to the council, the service carried more than 50,000 passengers along Douglas promenade during the 2012 season.
Councillor Stephen Pitts said the move follows "worldwide growing interest in the unique service".
In 2011, the Manx horse trams celebrated their 135th anniversary.
In recent years, they have been featured in television programmes in Germany, Japan and the Netherlands as well as Michael Portillo's BBC show Great British Railway Journeys.
Mr Pitts added: "In recent years partnerships with local businesses have brought new perspective and new ideas."
Expressions of interest should be submitted to Douglas Borough Council by Friday.