Isle of Man Special Olympian Gareth Cowin dies in South Korea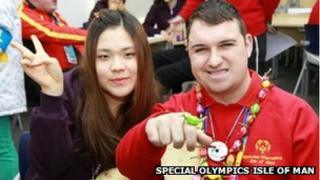 A Manx athlete has died while away with the Isle of Man team at the Special Olympics World Winter Games in South Korea.
Gareth Cowin was part of the island's 16-strong squad who are in PyeongChang along with six officials.
The 25-year-old, who represented the island at several World Winter Games, passed away after taking ill.
The Manx team will continue to compete with the full blessing of Gareth's father who has flown to South Korea.
His father, Kevin said: "Gareth loved his sport and wouldn't have wanted this sad turn of events to have disrupted the competition."
Gareth was due to compete in the floor hockey competition. He had previously won a gold medal in football for the Isle of Man at the World Summer Games in Athens.
His brother Liam posted on Facebook: "Early this morning my family lost a very special boy."
He went on to describe his brother as his "best friend and his hero".
Special Olympics is a worldwide organisation offering sports for people with learning disabilities.
More than 2,000 competitors from all over the world are taking part in the event which runs until the 5 February.