Isle of Man's Mountain Road closes due to high winds and drifting snow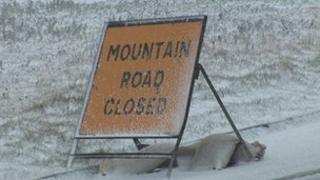 The Isle of Man's A18 Mountain Road has been closed again after weather conditions deteriorated.
The decision was made after a large amount of snow was blown on to the road and three vehicles crashed at the Verandah.
The road, which closed over a week ago, was briefly reopened overnight after extensive gritting.
The Department of Infrastructure (DOI) confirmed the road will remain closed until at least 12:00 GMT on Monday.
The area was also opened for a short time on Wednesday but had to be closed again due to high winds and drifting snow.
The Sloc Road reopened on Friday.
A DOI spokesman said they will be concentrating their efforts on high level routes, but there is still substantial amounts of snow in a number of locations.
A comprehensive list of road closures is available on the Isle of Man Constabulary's Facebook page.