Demolition forces Erin Arts Centre to close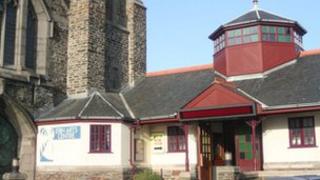 An Isle of Man arts centre has been forced to close while a nearby house is demolished following a fire earlier this month.
The Erin Arts Centre in Port Erin will be closed until the 4 February while the work takes place.
The derelict property on Bay View Road suffered significant structural damage in the fire on 4 January.
Office manager Jackie Allibone said: "The centre is open for bookings but no events will be held."
She added: "We have been lucky with the timing really. We have only had to cancel one event since we closed but if it had happened during one of our larger festivals it would have been different. Due to the proximity of the buildings it can't be helped."
The Lionel Tertis International Viola Competition in March will not be affected.
The Department of Infrastructure confirmed that Bay View road, between the Promenade and Nelson Street, will be closed to motorists until the 5 February.