Manx lifeboat figures 'buck national trend'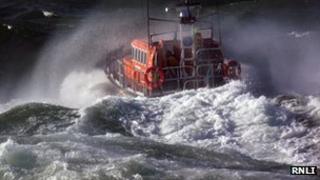 Isle of Man lifeboat teams were among the busiest in the north region during 2012, according to an RNLI report.
The number of rescues by island teams during the year was higher than anywhere else in the region.
The charity statistics showed that the Manx lifeboats were called out 47 times during the year, rescuing 68 people.
An RNLI spokesman said: "RNLI lifeboat stations on the Isle of Man have bucked the national trend and reported an increase in launches during 2012."
He added: "The most dramatic increase is at Peel where 26 people were brought to safety by the station's all-weather lifeboat- that is almost double compared with the same period the previous year.
"It was also a busy year for Ramsey where call-outs rose by 57% from seven to 11, and the number of people brought to safety increased by 50% from eight to 12.
The RNLI rescue figures were taken from the charity's north region which includes Hoylake (one), New Brighton (18), Lytham St Annes (24), Blackpool (23), Fleetwood (32) and Morecambe (7).
Around the coast of the UK and Republic of Ireland, RNLI lifeboats were launched 8,321 times rescuing 7,912 people.
The overall number of launches is down 7% from 8,920 in 2011.