Defibrillator campaign launched by Manx heart charity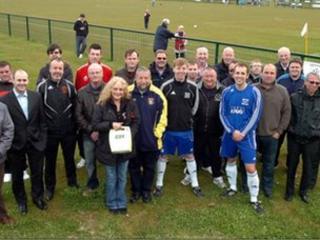 A Manx heart charity has launched a campaign to equip all 34 of the island's primary schools with lifesaving defibrillators.
Craig's Heartstrong Foundation was founded by Paula Lunt after her son Craig died from an undiagnosed heart defect in April 2005.
Last year the charity supplied 55 defibrillators to high schools and sports clubs across the island.
A spokesman said: "If a defibrillator saves one life it is money well spent."
The charity has set a target of £60,000 which it plans to raise through a variety of fundraising events.
Mrs Lunt said: "We hope the machines can provide comfort to parents and teachers. We also hope the machines never need to be used."
Fabrice Muamba
The chairman of Craig's Heartstrong Foundation, Paul Healey said the high-profile collapse of Bolton Wanderers footballer Fabrice Muamba last year brought the issue of undiagnosed heart defects to the public's attention.
The Department of Education have given their full support to the project which will also see money given to the St John Ambulance to help with training for school staff.
Education minister Tim Crookall said he is "extremely grateful."
He said: "We are pleased to support Craig's Heartstrong Foundation's fundraising by making the primary defibrillator appeal our first ever 'charity of the year' and we plan to run events through the year to contribute to the total."
The foundation also plan to continue to provide two heart screening weekends each year in the Isle of Man, with the help of the UK charity Cardiac Risk in the Young (Cry).
Since 2006, the foundation has helped to screen more than 3,000 people in the Isle of Man.
Cry say that 12 young people in the UK die of undiagnosed heart defects every week.
The next heart screening weekend will be held on the 13 - 14 April at the Palace Hotel in Douglas.