Stamps mark Isle of Man constabulary's 150th anniversary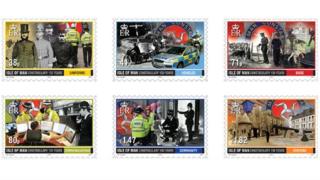 The 150th anniversary of the Isle of Man Constabulary is to be celebrated with a set of stamps depicting its work and history.
Landmark occasions range from the first police dog in the 1960s to the first woman police officer in 1967.
The force currently employs around 240 staff.
Insp Derek Flint said: "To have our 150th anniversary commemorated in a stamp issue that will be seen the world over is something to celebrate".
He added: "We hope that the images will illustrate how far we have come and how the finest traditions of the island's constabulary remain at the forefront of what we do."
Dot Tilbury, from the Post Office, said she hoped the collection would do justice to the Force's long and eventful history.
Although the island is not a part of the United Kingdom, the constabulary volunteers itself for inspection by Her Majesty's Inspectorate of Constabularies.