Island's 'at-risk' urged to receive flu vaccination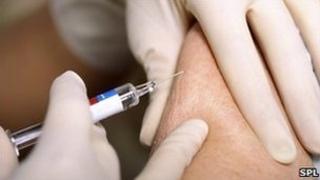 Isle of Man residents in the Department of Health's "at-risk" category for flu have been encouraged to get vaccinated.
The category includes people over the age of 65 along with those who suffer from chronic diseases, problems with their immune system and pregnant women.
A spokesman said anyone in this group should contact their GP.
Anyone suffering from flu is advised to keep away from others, especially those in the "at-risk" category.
Dr Parameswaran Kishore, Manx director of public health, said a projected period of cold weather could easily lead to an "increased transmission of flu".
People needing medical advice are advised to contact their GP by phone.