Manx meat could return to Douglas Tesco within weeks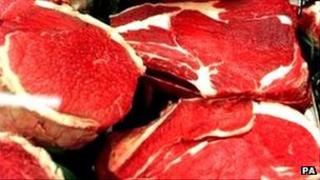 Manx meat could be back on the shelves of Tesco's Douglas store within weeks, according to the CEO of Isle of Man Meats John Dawkins.
The supermarket giant removed Manx meat from its shelves last February after a routine inspection of the Manx abattoir raised concerns over standards.
Mr Dawkins said the issues, which were mainly paperwork, were resolved and the plant met the very highest standards.
The supermarket giant had been one of the abattoir's biggest clients.
'100 per cent safe'
Mr Dawkins said: "I want to assure the Manx public that our facility operates the highest possible standards and all the meat we produce is 100 per cent safe."
The majority of Tesco's concerns centred on documentation, although a new metal detector has also been installed.
Mr Dawkins said: "All our meat is fully traceable and we supply all the other supermarkets on the island along with independent butchers.
"We are weighting for specifications to be agreed and finalised and we should have meat in Tesco within weeks."
No date has yet been finalised but abattoir bosses are now waiting to hear which Manx meat the supermarket will be selling.