Ash dieback: Government holds talk on potential threat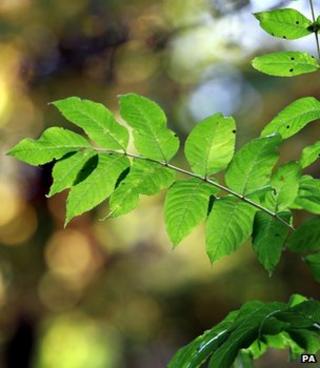 People in the Isle of Man have been invited to a talk to help "unravel the mysteries" of ash dieback disease.
In November an outbreak of the disease in the UK led to a complete ban on the importation of ash to the island.
Government forestry officer Jimmy Lee will discuss the potential impact on the Manx countryside if the disease arrived.
Mr Lee said: "If let go the island could lose up to 50% of its hard wood population."
The effect of Dutch elm disease and sudden oak death on the island's trees will also be discussed at Mount Tabor Hall in Port St Mary at 19:30 GMT on Thursday.
He said: "I will be talking about what it looks like and how it could affect the Manx countryside.
"Hopefully I can unravel a few of the mysteries for people."
Mr Lee said the disease tended to be dormant during winter months.
He said: "It shows itself in spring and summer as the trees come in to leaf so it is a good time to draw attention to it."
The Department of Environment, Food and Agriculture is making checks on each site planted since 2007.
According to the Department's statistics there are around 250,000 ash trees in the Isle of Man.
The disease has caused widespread damage to ash tree populations in continental Europe and is particularly destructive to young plants.
So far it has been confirmed at more than 300 sites across the UK, with woodlands in Norfolk, Suffolk, Kent and Essex among the worst affected.
Dieback, caused by the Chalara fraxinea fungus, was first recorded in eastern Europe in 1992 and spread over two decades to infect most of the continent.
The first confirmed case in the UK was recorded at a nursery in Buckinghamshire in March 2012.
The Forestry Commission in Great Britain has issued guidance on how to identify the disease.