Isle of Man tuition fees decision postponed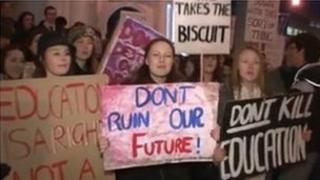 The Isle of Man government has postponed a vote on the proposed introduction of tuition fees.
The move came after members voiced concerns over changes to the scheme which would see students pay at least £2,500 a year from 2014.
Education minister Tim Crookall said a new set of regulations would be published in time for the February sitting of Tynwald.
If passed it would the first time Manx students have had to pay tuition fees.
Amongst the new measures will be the availability of a £2,500 loan extended to all students and the start of means-tested contributions now moves to family incomes of £100,000 or more.
Mr Crookall said he had "listened to concerns" and he believed the proposals were "fair and equitable."
He said: "Around 85% of students will be able to attend university without any other commitment than a £2,500 universal contribution and all those students will be able to borrow this funding from government."
A number of MHKs voiced concerns in Tynwald including John Houghton, Brenda Cannell and Kate Beecroft.
'2,500 signature petition'
Mrs Beecroft said there were many areas where departments were spending money on what the public "did not perceive as priorities."
More than 100 students protested outside Tynwald on Tuesday and former education minister Peter Karran handed over a 2,500 signature petition on their behalf.
A-Level students Chris Owen and Patrick Vernon will be amongst those affected.
Mr Owen said: "Students in England have less maintenance costs and less travel costs and we don't have an alternative here. To get a higher education we have to leave the island and to do that we have to pay a lot on top of the proposed treasury grant."
Mr Vernon added: "It is absolutely shocking that government is even considering this. There are many other areas where savings can be made. It is like going back to the old days where university was for people with the most money not the most potential."
According the Department the cut is expected to save about £4m a year which is the equivalent of around 105 teaching posts.
The island's Department of Education currently spends £11m of its £95.8m annual budget on student awards, supporting about 1,400 Manx students every year.