Isle of Man students hold tuition fee protest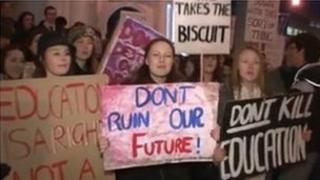 Isle of Man students are protesting outside Tynwald over the government's plan to introduce tuition fees.
Three demonstrations are planned by students and parents outside the Manx parliament, where members will vote on the issue.
In November, the education department announced Manx students would have to pay tuition fees for the first time.
If Tynwald members vote in favour students could be asked to pay at least £2,500 a year, from 2014.
St Ninian's student, Jack Gibney hopes the protests will show it is not just students who are against the changes.
'Better supported'
"We hope to be joined by medics and other professionals because the changes will affect many different people, on many different levels," he said.
"It seems the Isle of Man is already having problems recruiting young professionals to come and work here, making it more difficult for Manx students to get to university would hinder that process even more."
Education minister Tim Crookall said that because of the "fiscal challenges" the island faces Tynwald has "no choice" but to supported the proposed measures.
"If the regulations are adopted, our students would still be better supported that those in the Channel Islands, where contributions are higher, and England, where they are expected to meet all their fees," he said.
Since the plans were announced last year, a Facebook group called The Student Organisation Against Fees has gathered the support of around 1,365 people.
Ex-education minister Peter Karran will present a petition signed by more than 2,500 people to Tynwald, on behalf of the island's students.
'Ideological step'
"Once you have agreed that people should pay for education there is no going back," said Mr Gibney.
"It is an ideological step and if the UK is anything to go by, it could mean the £2,500 is just the beginning - we could see these charges increasing over time."
The education cut, which is expected to save about £4.4m a year, would mean charging most undergraduates at least £2,500 a year, from 2014.
Island students whose parents earn more than £80,000 a year will be asked to pay more.
The island's Department of Education currently spends £11m of its £95.8m annual budget on student awards, supporting 1,400 Manx students every year.