Dentist shortage leads to increased waiting times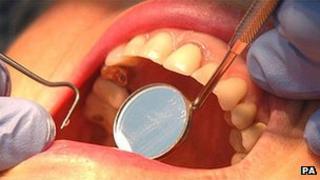 Dental patients in the Isle of Man are facing increased waiting times for check-ups due to a lack of dentists, according to the Department of Health.
Long-term sickness and repeated difficulties in recruitment have been blamed by the department for the increase in waiting times.
Health minister David Anderson said his department was "committed to resolving the acute problems".
Children will be seen as normal, but adults will be subject to delay.
Patients currently undergoing a course of treatment will have their treatment completed.
Mr Anderson added: "These challenges are not simple to resolve but I would like to reassure patients that we are taking all possible measures to improve the situation."
The department is looking to reduce waiting times by alternative recruitment methods, the introduction of extended hours and the employment of locum dentists.