Steam and electric railways to be used during bus strike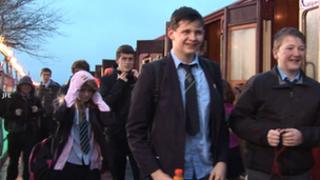 Steam and electric railways will again be used during Thursday's bus strike, the Department of Community, Culture and Leisure (DCCL) has confirmed.
The strike is the second held by Bus Vannin drivers in a long-running dispute with the government over measures including a £3,000 pay cut.
DCCL Chief Executive, Nick Black said "school services will take priority".
The five-hour strike, due to start at 13:00 GMT, will coincide with an exam day for many of the island's students.
According to the union Unite further industrial action is planned for January, February and March.
'See some sense'
Unite's Eric Holmes said the island's Chief Minister needs to get involved and start negotiating.
He said: "We will continue as long as it takes until we see some sense".
During the strike the steam railway will run from 12:50 GMT whilst the Manx Electric Railway will start at 13:10 GMT.
Mr Black said: "The railways were a popular and efficient alternative mode of transport during the last strike and we are happy to be able to run them again this time."
During December's three-day strike hundreds of children on the island used the steam train to get to school.
Mr Black added: "Morning school bus services will run to the normal timetable and we are working to ensure that scheduling concentrates on getting students to their exams on time as well as covering the homeward journeys."
'Plan ahead'
A head teacher on the island has urged pupils and parents to plan ahead.
Sue Moore from Queen Elizabeth II High School said: "Parents and children should read the government's website to see if there are any late changes that will affect them."
The DCCL is also asking that residents who can work on Thursday with a Public Passenger Vehicle licence help out during the strike.
The department is hoping the proposed changes will save £300,000 a year.
A bus driver's basic salary is £24,300 but, boosted by overtime, an average driver is earning about £38,500.
Transport minister Graham Cregeen said: "Finding new money is not an option and striking will not resolve the situation."
He added: "The department cannot concede money it does not have."
A government spokesman said it needed to save £1m in the current financial year.