Isle of Man electoral areas to change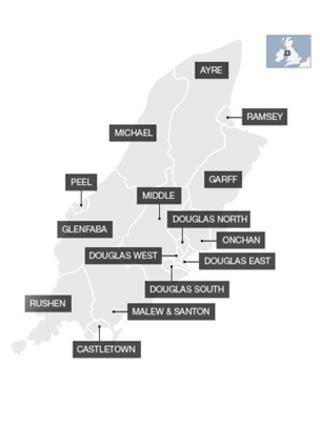 A review of electoral boundaries in the Isle of Man could bring more political equality to the island's voting process, according to a new report.
A series of recommendations have been put forward for public scrutiny by the island's Boundary Review Commission.
The changes would mean an end to a system where some Manx residents get three votes, and others just one.
The commission recommends the 24 political seats be more equally divided into 12 different constituencies.
Under the new proposals, each of the 12 areas would be represented by two members of the House of Keys.
Community interests
The current system is based on 15 constituencies, some with three political members (Rushen and Onchan), some with two, (the four Douglas constituencies and Ramsey) with the majority only having one (Ayre, Castletown, Garff, Glenfaba, Michael, Peel, Malew and Santon, and Middle).
Chairman of the Boundary Review Commission Sally Bolton said: "We are now giving people the opportunity to make suggestions.
"The [proposed] map is a working document but we would hope that it wouldn't need to be changed too much because it does take into account the interests of each community."
The public consultation will run between 9 January and 20 February and responses should be submitted to the chief secretary's office.
It is hoped the committee's final report will be handed to Tynwald in June.