Lewis Chessmen and Chronicles to feature on Manx stamps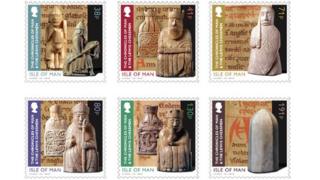 The Lewis Chessmen and the Chronicles of the Kings of Man will feature on the Isle of Man Post Office's first stamp issue of 2013.
The ancient chess set and the historic manuscript are currently on display at the Manx Museum as part of the Forgotten Kingdom exhibition.
The Post Office has worked with Manx National Heritage to design the six-stamp issue, which launches on Friday.
Dot Tilbury, from the Post Office, said they were a "beautiful collection".
Mrs Tilbury, stamps and coins manager, said: "When we heard the Lewis Chessmen and more significantly the Chronicles of Man were coming to the island, we relished the opportunity to feature them in our stamp programme for 2013 and the results are stunning.
'Landmark exhibition'
"It is a landmark exhibition and they look wonderful."
The Forgotten Kingdom exhibition explores the Kingdom of Man and the Isles between 1100-1300AD, a period when the island was at the centre of the maritime kingdom.
It centres around the Isle of Man's first ever story book, the Chronicles of the Kings of Man and the Isles, which dates back to the 12th Century.
The manuscript is the earliest written account of the island and documents many of the most significant events of the medieval age.
The Lewis Chessmen, on loan from the British Museum, is a medieval chess set which was discovered in 1831 on the west coast of the Isle of Lewis.
The chess pieces are believed to have been made around 1200AD in Norway and consist of elaborately worked walrus ivory and whale teeth. A number of the pieces are made from the tooth of a sperm whale.
The four-month exhibition will run until March.