Isle of Man service honours RNLI founder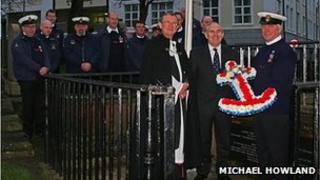 The Isle of Man-based founder of the Royal National Lifeboat Institution (RNLI) has been honoured in an annual commemorative service in Douglas.
Sir William Hillary, who launched an appeal in 1824 that led to the foundation of the charity, was a member of the Douglas lifeboat crew.
The annual service in his honour was held at St George's Church on Sunday.
Afterwards, a wreath was laid at Sir William's tomb by RNLI Director of Operations, Michael Vlasto OBE.