Military covenant wins 'overwhelming' public support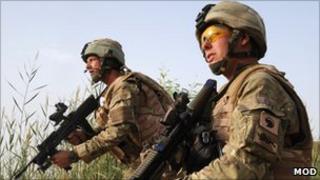 Plans for a military covenant for the Isle of Man have "overwhelming" public support, according to the government.
A consultation launched last August attracted 49 responses, 46 of which were in favour of the proposals.
The plans set out practical ways to support former soldiers when they leave the forces and return to the island.
The covenant states "those serving should face no disadvantage compared to other citizens in the provision of public and commercial services".
As a result of the survey the Isle of Man's council of ministers has given its backing, and endorsement will be sought in the January sitting of Tynwald.
It is estimated there are more than 200 people from the Isle of Man serving in the regular armed forces and about 65 in the reserves.
In addition there are thought to be about 3,500 veterans living on the island.
Home Affairs minister Juan Watterson said the move would bring together services from the public, private and voluntary sector for the benefit of island military personnel.
He added: "I see a Community Covenant as a way of giving recognition to the men and women from the Isle of Man who serve or who have served, often with great distinction, in the British armed forces."