New Manx police chief Gary Roberts starts role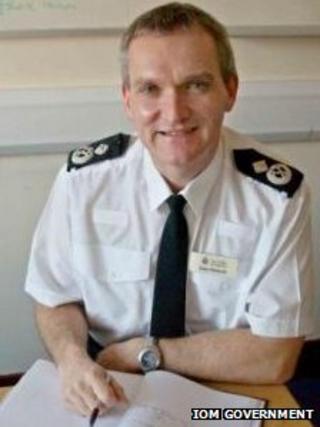 The Isle of Man's new chief constable has stated his commitment to neighbourhood policing on his first day in the job.
Gary Roberts, 49, is the first Isle of Man police officer to rise through the ranks and take up the position.
He was appointed last year to succeed Mike Langdon who retired in December.
The former deputy chief said he was "absolutely focussed" on the community policing model introduced by his predecessor, if funds allow.
When he was appointed, Mr Roberts was tasked by the government with maintaining the force's focus on community policing while keeping crime levels on the Island among the lowest in the British Isles.
But he takes up the role at a time when the government is seeking to rebalance public finances.
He said: "I understand as well as anyone how difficult it is for the Isle of Man government and it's a case of the government prioritising what's important.
"I'll deliver whatever policing model is appropriate but I want to deliver a neighbourhood one because that's what the Isle of Man people want."
Mr Roberts joined the Isle of Man constabulary in 1984 and worked as a constable in Douglas, Onchan and the CID before being promoted to detective sergeant in the Fraud Squad in 1996. He was promoted to chief inspector in 2002 and to deputy chief constable in 2008.
He is the father of two children and lives with his family in Castletown.
Mike Langdon, 51, from Bolton, Greater Manchester, formally took up the top Manx police role on 1 January 2008. He announced his retirement in July.