Isle of Man bus drivers go back to work after strike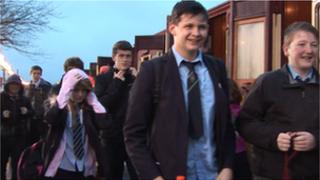 Isle of Man bus drivers have returned to work following a three-day strike over pay and conditions.
The move was prompted by a walkout of Bus Vannin drivers, over new measures that include a £3,000 pay cut.
During the action school children and commuters used the island's steam train and electric tram service.
The strike went ahead after final talks failed between union bosses and the government, which is looking to save £300,000 a year.
Drivers are also angry that they face an increase in driving time the government wants to impose.
As a result of the action, a temporary train platform was erected on Castletown bypass for Castle Rushen High School pupils.
According to the Unite union, 90% of Bus Vannin drivers voted in favour of the strike.