Bee Gee singer's wife visits hospice in the Isle of Man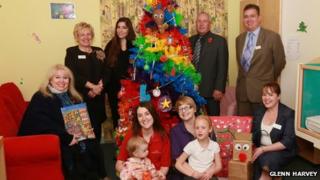 The wife of Bee Gee Robin Gibb has visited a children's hospice in the Isle of Man.
Staff at Rebecca House said: "We were delighted to welcome Dwina Gibb to the hospice, both Dwina and Robin were great supporters."
The Bee Gees singer, who died this year aged 62 after a lengthy battle with cancer, was born in the Isle of Man in 1949.
One of his last concerts was partly in aid of Rebecca House.
The facility, which provides care for children with life-threatening conditions, was officially opened by Mr Gibb and his wife in 2008.
During her visit she spent time chatting to staff and residents.
A spokesperson from the hospice said: "Everyone was delighted that she took the time to come to the Isle of Man to visit them."
An album named after Mr Gibb's first Isle of Man address, 50 St Catherine's Drive, is due to be released next year.