Manx birdwatchers asked to record Christmas sightings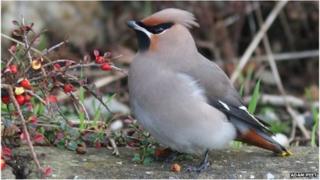 Birdwatchers in the Isle of Man are being encouraged to take part in a competition to record visiting bird life around the island over Christmas.
Bird conservation charity Manx BirdLife is running the competition for the second year after 103 species were spotted in 2011.
Spokesman Mark Fitzpatrick said: "I hope we will do even better this year."
The competition will run from 25 to 31 December and sightings should be sent to the Manx BirdLife website.
'Rich bird life'
Mr Fitzpatrick said: "We want people to get out and celebrate the island's rich bird life.
"As well as local birds there may be the chance to see lots of interesting species including waxwings, a winter visitor from northern Scandinavia and Russia."
Lat year sightings included resident birds such as stonechats, robins and cormorants and winter visitors to the island such as twite, whooper swans and great northern divers.
Mr Fitzpatrick added: "We are really hoping to build on last year and develop our understanding of what species are on the island at this time of year".
Those interested can submit their sightings with the date, place and species by email, twitter or by using the form on the Manx BirdLife website.
The website will be regularly updated so people can keep up-to-date with all sightings.