Celtic Array delay Irish Sea wind farm extension plans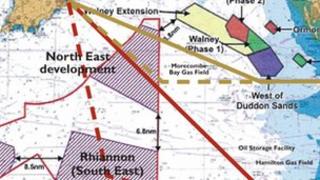 A decision on a proposed Irish sea wind farm extension has been deferred to consider the effect on Isle of Man shipping routes.
Celtic Array, a joint venture between DONG energy and Centrica, are to revise proposals the North East block of their Round 3 Irish Sea zone.
A spokesman said: "We recognise the concerns expressed and we are going to take more time to consider them."
The Manx government has welcomed the decision.
Infrastructure minister David Cretney said: "The ability of the Steam Packet, in particular, to continue to provide the Isle of Man's residents and businesses with safe, reliable and frequent shipping services is of paramount importance.
"The announced postponement and the continuing commitment by Celtic Array to discuss options are welcomed."
According to Celtic Array they will "further investigate options to remove or, at least, minimise the impact on shipping services to the Isle of Man, on any future proposals."