Isle of Man bus strike goes ahead on Thursday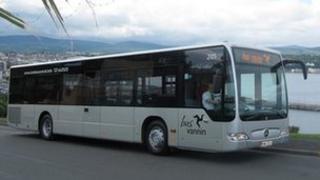 A three-day bus strike in the Isle of Man will go ahead, the Department of Community, Culture and Leisure (DCCL) has confirmed.
The drivers will start the walk out on Thursday after talks between the union and the government broke down on Tuesday.
DCCL minister Graham Cregeen described the situation as "unfortunate".
According to Unite, 90% of drivers voted to take action over measures which include increased driving time.
The government is hoping the proposed changes will save £300,000 a year.
Unite's Bobby Morton said: "Our members appreciate that this will cause inconvenience to the public, but we have gone the extra mile to try to achieve a fair and equitable settlement."
Mr Cregeen said: "It is unfortunate that the drivers' representatives still do not accept the financial difficulties that face both the department and the island
"At least we are able to use our heritage railways and a number of non-union drivers to deliver the core services at this important time."
A range of contingency plans are in place including using the island's steam train and electric railway.
According to the department, the £10,000 it spends on drivers' wages a day will be used help pay for the contingency measures.