Isle of Man driver escapes 100m plunge into river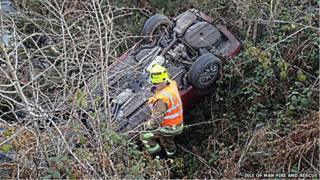 An Isle of Man driver rolled 100m down a steep embankment and ended up in a river bed.
The driver lost control of his car after overtaking another vehicle in Marown on Thursday.
Fire service station officer Nigel Fraser said: "It was a miracle that he escaped without major injuries".
The driver sustained minor chest injuries but was able to scramble free from his vehicle and call the emergency services.
According to Mr Fraser the car had rolled several times before coming to rest on its roof in the river.
No one else was involved in the accident.
A fire service special rescue unit, water rescue team and a crew from Peel attended the scene in Garth.
Fire crews isolated the car's electrical system to prevent a fire.