Katherine Crowe: Terminally ill singer bids for Christmas number one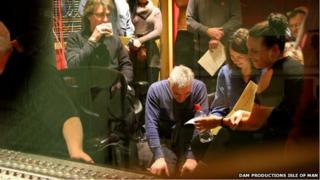 A singer with terminal breast cancer is bidding for the Christmas number one.
Isle of Man performer Katherine Crowe has released her version of Charlie Chaplin's Smile after recording it at Abbey Road Studios in London.
She said: "Bar seeing my children for the first time it was the most breathtaking and magical moment of my life and I want to share it."
Mrs Crowe is accompanied on the track by the London Metropolitan Symphony Orchestra.
The mother-of-two from Onchan has been making music for more than 25 years and has performed in the Isle of Man and throughout the UK.
She had always dreamed of recording at the famous studios.
Her ambition became reality with help from friends and a number of private donations.
She said: "There are no words to explain what this journey means to me.
'Magic happened'
"I want to make a difference to other people in my position and the way I can do that is through my music. I used to sing Smile at the end of my concerts and it seemed fitting."
The song was directed by Julian Kershaw who has worked on soundtracks for films including Harry Potter and Notting Hill.
She continued: "I can't believe the support I have received to make my dream come true. Definitely a little bit of magic happened that day."
She was first diagnosed with the disease six years ago and has been fighting it ever since.
She faces tough competition for the number one slot. For five of the previous seven years, the winner of the X Factor has grabbed the coveted Christmas number one.
But last year the Military Wives beat X Factor winners Little Mix to top spot.
'Positive and uplifting'
Mrs Crowe's friends Christy DeHaven and Dave Armstrong documented the day at Abbey Road.
Ms DeHaven said: "Despite what she is going through she is still so positive and uplifting and inspiring and you want the world to get a little piece of that.
"When someone has that much talent you want to make things happen for them. She is a remarkable performer."
Mr Armstrong added: "She is sure to capture the public's imagination.
"Everyone involved has been blown away by her talent."
'Given me hope'
The singer continued: "I know it would be a miracle, but I need to believe miracles can come true."
"I have two great kids and a wonderful family and I want to be around for them.
"I can't let myself believe in what seems to be the inevitable. This song has given me hope to keep on keeping on.
"My health is on a knife edge, but I can still move, talk, walk and breathe which I class as a blessing.
"It is a beautiful distraction which at this moment in time lets me focus on a future. Some people would say I don't have a future but in the second I have."
The singer has stopped all conventional drug treatments because her body reacts with anaphylactic shock.
The proceeds from the song will go towards the development of new cancer treatments.
The song was released on Friday.