Fishing boat rescue caught on camera by RNLI volunteers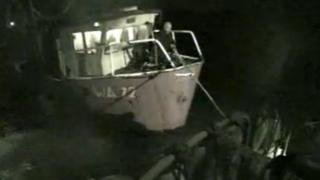 A fisherman has been rescued by members of Ramsey RNLI after his boat broke down eight miles from the Manx coast.
Ramsey lifeboat was launched at 06:24 GMT on Wednesday to help the man who had been travelling to Whitehaven.
The lifeboat towed the vessel to safety and passed it on to Workington RNLI at about 08:20 GMT.
The rescue was captured on film just hours after the volunteer team had received new helmet cameras to help with training exercises.
'Rare insight'
Ali Clague, RNLI mechanic at Ramsey, said: "The footage will give viewers a rare insight into the day to day work of RNLI volunteers.
"Just hours after we'd taken delivery of the camera we got to use it for real.
"They have already been very well received at Ramsey and will be very useful for training new and existing volunteers."
The edited footage will be used in rescue films and be available to view online.
An RNLI spokeswoman said it was hoped the footage would help the RNLI in fund-raising efforts and raising the charity's profile.
Port Erin RNLI Lifeboat Station already has a fixed camera on board the station's Atlantic 85 lifeboat.