Isle of Man airport predicts return to growth in 2013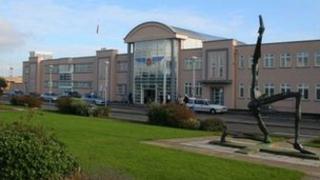 The number of passengers using the Isle of Man's airport has risen for the first time in eight months, according to official figures.
November statistics show a 7% rise in business compared to last year, with 59,500 passengers passing through.
According to Airport director Ann Reynolds it is the highest November figure for five years.
The increase in passengers using Ronaldsway ends a seven month period of continuous decline.
All three of the island's routes to the North West saw increases during the month with the Liverpool route seeing a 15% rise.
According to the statistics London traffic increased by over 20% and Glasgow was up by 19%.
'No illusions'
Mrs Reynolds said she was reassured by the reversal in passenger numbers, but was under no illusions about whether the solid November increase had signified improved market conditions.
"The last seven months has been tough for our airlines and this coming winter will be even more difficult for the industry," she said.
In recent weeks, routes to Leeds and the Channel Islands have been withdrawn during the winter months.
Services to Leeds, Luton and Jersey all experienced declines during November with Leeds and Luton 25% and 30% down respectively.
Birmingham also fell by 13% and Belfast by 10%.
Despite the overall rise for November it is expected that the 2012 figures will be down on the previous year.
Mrs Reynolds said: "Provisional forecasts for 2013 indicate a slow but steady return to growth, but the outturn for next year will be again dependent upon the UK and European economies showing signs of improvement".