Children release Christmas single for cancer charity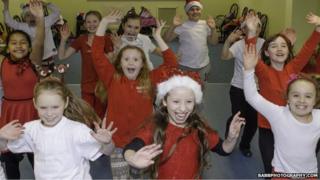 A group of Isle of Man children have recorded a Christmas song with a Manx twist to raise money to tackle cancer.
The Platform Theatre group have put their own spin on the The Twelve Days of Christmas to raise money for charity Manx Cancer Help .
Leandra Lawler, who set up the group, said: "Several members have been affected by cancer and it is a lovely way to give something back".
An initial run of CDs sold out in less than an hour, according to the group.
"My husband has cancer so I know how important the work of the charity is first-hand," Mrs Lawler continued.
"We love performing so it made total sense to make people smile and raise money at the same time.
'No perfect choir'
"I think the song is a bit like Mr Blobby, some people will love it and some might not."
The song's lyrics have been changed to include Manx references such as kippers, TT riders and a Manx cat stuck in a tree.
So far the group have received orders from Australia, Spain, California and the UK and they now plan to sell the song online in the hope it will go viral.
The group, which was set up in April 2010 encourages children from 4 - 16 to take an active interest in the arts.
Mrs Lawler, from Edinburgh, said: "It is by no means a perfect choir. If a child wants to take part we encourage them to do so.
"We have some children with speech impediments and others who are very shy but it all adds to the character of the song.
"We don't buy into stereotyping children and we never tell them they can't do something. It is so exciting that people are wanting to buy the song".
The group will be performing their song at several events across the island in build up to Christmas.