Detective work reveals Japanese artist painted Manx portrait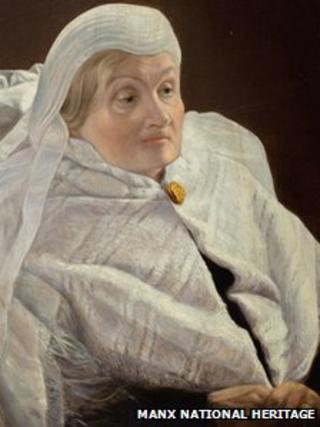 Detective work by Manx Museum staff has led to a Japanese man learning more about his grandfather's art.
Staff identified the painter of a 19th Century ship captain's wife as the "highly regarded" Jirokichi Kasagi, and contacted 65-year-old Hidefumi Kasagi.
Many records relating to the artist were lost in WWII, and Mr Kasagi has been collecting data about his work.
He said it had been "strange", as the news of the painting arrived on the day he held a memorial for his grandfather.
The painting of Elizabeth Karran, the wife of Captain John Karran, was recently acquired by the museum.
Captain Karran was a member of the Castletown family which owned a fleet of vessels.
Karran vessels traded all over the world at the end of the 19th Century, and it is thought the portrait was painted in Japan, from a photograph carried on a vessel during a trading voyage.
With help from a Japanese colleague, Manx National Heritage (MNH) staff were able to identify the artist from the signature on the painting and establish it was the work of Jirokichi Kasagi.
'Wonderful stories'
The artist, who was born in 1870, was popular among Europeans in Japan and worked in Yokohama.
Many of his paintings and sketches were lost in an earthquake in 1923 and in fires in the Second World War.
Curator Matthew Richardson said the discovery of one of his works on the Isle of Man showed a "forgotten" link between the island and Japan.
"It can be a fascinating process of detective work to piece together the wonderful stories which lie behind historic artefacts," he said.
"Here we have a piece of artwork which illustrates the trading routes that existed between the Isle of Man and the Far East during the age of sail.
"It is often forgotten that before the Second World War, there were quite close links between Japan and the west."
Staff hope to show the painting in the museum after it has undergone conservation work.