Actress Sam Barks to make film debut in Les Miserables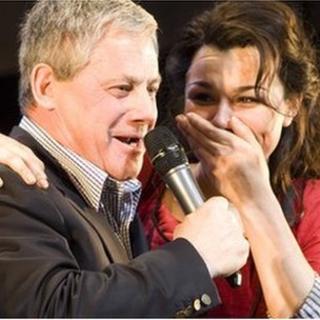 Musical star Sam Barks will make her big screen debut at the world premiere of Les Miserables in London later.
The Isle of Man actress, who shot to fame on the BBC talent show I'd Do Anything, plays Eponine in the film adaptation of the hit musical.
She said: "It's one of those dreams I thought would be unattainable for someone like me."
The 22-year-old stars alongside Russell Crowe, Anne Hathaway and Sacha Baron Cohen in the film.
The movie is based on the stage musical and classic novel by Victor Hugo set in 19th Century France.
Barks former drama teacher described her as an "extraordinary talent".
'Nothing is impossible'
Stephen Craige said: "I firmly believe that in drama nothing is impossible and she has proved that.
"I think I mention Sam about 20 times a day in my lessons. I am always referring to how hard she worked, how well she worked with other people and her amazing personality."
In February theatre producer Sir Cameron Mackintosh told Barks live on stage in Manchester that she would play Eponine in the film.
At the time she said it was "the most incredible moment of my life".
Her father, Richard, said she "wasn't fazed" when she met the A-list cast.
'Incredibly emotional'
"In some ways their experience is an advantage but she has played the character of Eponine for over 12 months on the West End, so she felt extremely confident with her own role," he said.
"We are all very proud of her. It seems a bit unreal really going to watch your daughter at a world premiere."
Her sister, Kim, said she had "taken it all in her stride".
"When she performs in big theatres it is incredible to see her on stage in front of all those people," the 27-year-old said.
"I always get incredibly emotional seeing my little sister perform but I think this will be another level again to see her on the big screen."