IOM health chiefs propose 50p minimum price for alcohol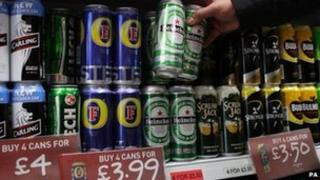 Isle of Man health officials have proposed a minimum price of 50p a unit for the sale of alcohol.
In November, ministers in the UK proposed a minimum price of 45p a unit in England and Wales. Scotland has proposed a 50p minimum.
Consultant in public health medicine Dr Paul Emerson said: "A 50p price would help save more lives and give more overall benefit than 45p."
There is currently no minimum price per unit in the Isle of Man.
Dr Emerson said: "We would welcome any minimum price as we feel it would have a serious and positive impact on health.
"The measure would not impact significantly on moderate drinkers but we believe it would help cut the rates of binge drinking and problem drinkers."
The proposals made by the Department of Health and the Public Health Directorate are now being discussed by the government's Drug and Alcohol Strategy Group.
In Northern Ireland, consideration is also being given to minimum pricing, although no final decision has been taken yet.