Water worker killed in Isle of Man wall collapse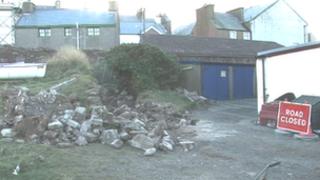 A worker from the Isle of Man Water and Sewerage Authority was killed when a wall collapsed in Peel.
The man, believed to be in his 50s, died in the accident which happened at the bottom of Walpole Avenue, close to the Creg Mallin Hotel.
A police spokesman said the wall may have collapsed because of excavation work taking place in the area.
"We are working with the health and safety inspectorate to work out what happened here," said Insp Derek Flint.
"The collapse of the wall appears to have happened as a result of some excavations going on in the area and when the emergency services arrived to the scene they found that a man had died as a result of that collapse.
"It is too early to speculate at this stage just what exactly has happened, but as a matter of priority our thoughts are with the man's family."
'Deep regret'
A spokesman from the Isle of Man Water and Sewerage Authority said that the organisation's chairman, John Houghton had visited the scene along with the chief executive, Peter Winstanley.
He added: "It is with deep regret that we confirm one of its workers was killed this morning in a tragic accident in Peel whilst excavating to replace a water supply pipe."
Mr Houghton said: "This was a very tragic and unfortunate accident and our thoughts and prayers go out to his family at this time".
The Health and Safety Inspectorate officers are on site carrying out an investigation.