Hundreds of children start tree-planting initiative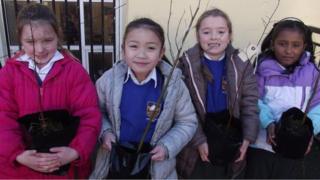 Hundreds of children in the Isle of Man have begun a project which will see them plant their own tree.
The government project will see 500 children nurture saplings before planting them in one of the island's plantations in March.
Education Minister Tim Crookall said; "The Tree for Life campaign will encourage children to learn about their environment in a hands-on and fun way.
Pupils from a dozen of the island's school's will take part.
The children will each tend to their own sapling this winter before planting them in Conrhenny plantation in March.
Five types of native broadleaved trees, including ash, have been distributed to the schools by the Department of Environment, Food and Agriculture.
A spokesman said: "The ash are free from ash dieback as they were imported well before the outbreak."
Last month the Manx government issued a complete ban on the import of ash after an outbreak of the disease in the UK.
During the three-month project children will learn about seeds, leaves, pests, diseases and planting.
The spokesman added: "We hope they will return in years to come to see the saplings grow into mature trees."