Donation helping with 'essential aid and relief' in Syria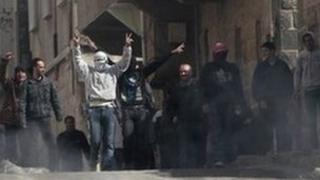 The Isle of Man has been thanked for its recent donation to a British charity delivering help in Syria.
The Overseas Aid Committee pledged £10,000 to the British Red Cross to deliver food and medicine to civilians.
Domitille Quillien of the charity, said: "Your valuable support has allowed us to continue delivering essential aid and relief."
The Isle of Man committee has donated about £25,000 to help international charities working in the Middle East.
'Unrest and violence'
Chairman Phil Gawne MHK, said: "The British Red Cross and other charities are doing a fantastic job in Syria, often in extremely hazardous circumstances.
"I am pleased that the Isle of Man's modest contribution, combined with the efforts of the international community, is helping to make a genuine difference to the victims of the unrest and violence in the country."
Violence has spread across Syria over the past year, with hundreds of people being killed or injured and tens of thousands more displaced from their homes.
Volunteers acting on behalf of the Red Cross Syria Crisis appeal are working alongside other aid agencies, such as Syrian Arab Red Crescent, to offer life-saving support in the worst affected areas.
In October, a petition signed by 2,000 people who want to see the Isle of Man increase its commitment to overseas aid was handed over to the island's chief minister Allan Bell.
The Point 1 campaign group wants to see the island increase its overseas aid commitment from 0.07% of its gross national income (GNI) to 0.1% by 2013.
The Isle of Man currently pays less than both Jersey and Guernsey.