Irish Sea wind farms on display in Isle of Man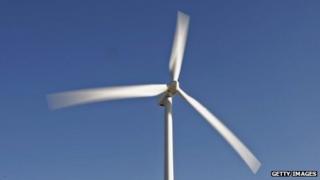 Isle of Man residents are being given their first chance to examine plans for a wind farm in Irish Sea.
A series of public displays are being held to inform people about the Rhiannon development, near Anglesey.
Plans were submitted to the UK government earlier this year.
The company behind the development is Celtic Array, formed by Centrica - which owns British Gas - and Danish firm Dong Energy.
Company representatives will be on hand to answer questions on how the development would affect island-life.
Isle of Man ferry company, The Steam Packet, says it could have a negative impact on the island's economy.
Ferry chief Mark Woodward said: "If this comes to development then we would literally face a wall of wind farms between here and the UK coast.
"To an island which is isolated and needs those absolutely vital links, that could be significant."
The Rhiannon wind farm would be around 19km (12 miles) north-east of Anglesey and cover an area the size of the Isle of Man.
First announced in January 2010, the project would feature between 150 and 440 turbines and could generate up to 2.2 GW of electricity, or enough to meet the needs of around 1.7 million homes.
Two years of assessment have already been completed to understand the physical, environmental and engineering constraints of building out in the Irish Sea.
'Really constructive'
If the planning inspectorate gives permission, construction could start in 2017.
Head of development for Centrica Energy Laura Jeffs said the company is aware of, and will continue to listen to, Manx concerns.
"We have been engaging with the Steam Packet for the last two years, we have had some really constructive meetings with them.
"One of the processes we have been going through is to really understand what their concerns are, the frequency of their sailings and the importance of these sailings to the Isle of Man - we certainly understand that.
"We need to make sure we get something together which is right for them, right for us and right for the Isle of Man."
The Celtic Array public displays are being held in Douglas, Port St Mary and Ramsey between 30 November and 3 December.