Minke whale and bottlenose dolphin sighting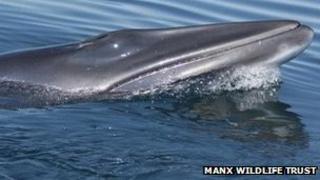 The sighting of a minke whale swimming with bottlenose dolphins off the Isle of Man coast has been described as "incredibly rare," by a marine expert.
Members of the Manx Whale and Dolphin Watch made the sighting on Thursday.
Sea Watch Foundation director Dr Peter Evans said: "Although this association is known to occur, it is incredibly rare to witness in the British Isles".
The sighting was made from Marine Drive in Douglas in clear conditions at around 13:00.
Manx Whale and Dolphin Watch members Becca Crow and Sarah Kaye described the sighting as "once in a lifetime".
'Clear identification'
Ms Crow said: "Although they were a little way out, the distinct surfacing patterns along with calm water conditions enabled us to make a clear identification through our binoculars.
"They would go one way and then the next. Dive and then reappear. It was incredible.
"Potentially I believe the two species could have been co-operatively hunting and feeding on herring stocks that move round to the east side of the island, during autumn and winter months.
"It is also possible the dolphins were taking advantage of the commotion the minke would have been creating and were in fact stealing the fish.
"Either scenario is possible. I didn't realise how rare it was until we spoke to Dr Evans. I have seen both animals individually but never together."
Tom Felce, who runs the Manx group, said: "Dr Evans has been researching these amazing animals for decades. He is incredibly knowledgeable in this area, so for him to say he has never witnessed such behaviour shows how rare it is".
Minke whales, which can weigh up to 10 tonnes, are sometimes spotted off the Manx coast in late summer.
They prefer cooler regions to tropical areas and can also be found in the Atlantic, Pacific, Indian and Arctic Oceans.
Common bottlenose dolphins are widespread, except in polar waters. The dolphins normally visit Manx waters between October and March to feed on herring, mackerel and whiting.
They are extremely sociable and sometimes hunt their prey in teams.
The group asks that people record their sightings on their website.