Isle of Man government launches e-gaming course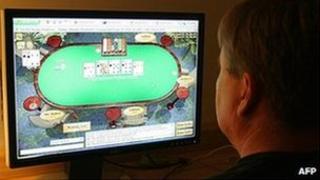 Students in the Isle of Man will be able to study towards a postgraduate qualification in e-gaming from January, the government has confirmed.
According to government statistics almost 700 people are employed in the sector, which contributes £164m a year to the Manx Exchequer.
The island's e-gaming Manager Ray Davies said: "It is a fantastic opportunity for students."
There are currently about 50 e-gaming companies licensed in the Isle of Man.
Mr Davies added: "We believe it is the world's first accredited qualification in e-gaming and it delivers a real opportunity to those looking to work within a thriving industry."
'Exciting time'
The island's political member for e-gaming, Alex Downie, said: "We are determined to build on the island's reputation as a centre of excellence for e-gaming and aim to achieve this by being at the forefront of developing new initiatives and innovation."
The course at the Isle of Man College in Douglas will be validated by the University of Chester.
The college's assistant principal Joanna Richardson said: "It is an exciting time in education on the island."
Plans are already being discussed to introduce full degree courses and equivalent A-level courses in the subject next year.