Isle of Man airport passenger figures continue decline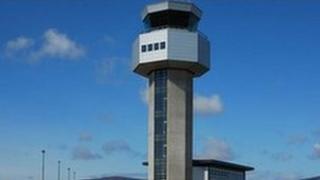 The number of passengers using the Isle of Man's airport has fallen for the seventh consecutive month, according to official figures.
October statistics show a 2% drop in business compared to last year, from 63,100 passengers to 61,800.
During the month the North West market saw a decline of 2,600 passengers,
Airport director Ann Reynolds said the "sudden dip" in business was concerning, because it came after two-and-a-half-years of consistent growth.
Services to Belfast, Edinburgh, Jersey and Newcastle all saw a "double digit percentage decline", said an airport spokesman.
Fog cancellations
In contrast, the number of people travelling between the island and London during October increased by 22% (3,750), the Dublin service by 4.2% and Glasgow by 5.6%.
Airport director Anne Reynolds said flight cancellations due to fog resulted in the loss of between 500 and 800 passengers.
She added: "In October, even taking into account the reduction in numbers due to the weather, we were about 2.6% short of expectation.
"This really reflects the massive impact that the UK economy is having upon domestic air services."