Isle of Man bus drivers' vote over strike action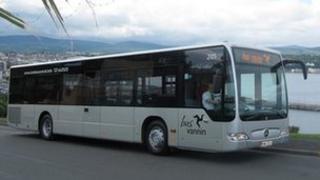 Bus drivers in the Isle of Man are voting on whether to strike over cuts that include loss of paid lunch breaks.
In October, all 98 bus drivers had their government contracts terminated and were asked to reapply for their jobs under new terms.
The changes would see increased time at the wheel and a £3,000 pay cut.
The Unite union said the "vast majority" of those sacked and reinstated were expected to vote to strike.
According to the government, less than half of the drivers accepted their latest contract offer.
The Department of Community, Culture and Leisure's, chief executive, Nick Black, said just 44 have agreed.
'Contingency plans'
He said: "In respect of a possible bus strike, until we know what action, if any, will be taken the Department can't speculate as to what will happen.
"We do however have contingency plans and will use them to respond to any action that is taken."
The Department is hoping the proposed changes will save £300,000 a year.
They will see driving time increase and a reduction of contractual hours from 42 to 37 per week.
The Unite union's Eric Holes, said: "The feedback I am getting is that the vast majority of those who have been dismissed and then re-engaged will vote to strike.
"We are in a position now that strike action is almost guaranteed".
Three offers
The union estimates each driver stands to lose between £2,500 - £3,000 annually because of the imposed changes.
According to the government, the average salary for a bus driver in the Isle of Man is £38,500. The basic salary is £24,300 but can be boosted by overtime.
Drivers have been offered new pay terms and conditions three times by the department but they have been rejected at ballots.
A spokesman for the Department of Community, Culture and Leisure said it needed to save £1m in the current financial year.
The ballot will close on 12 December.