Isle of Man students to pay more for university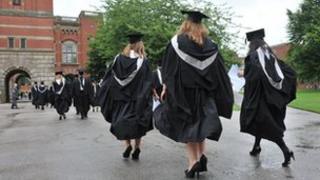 Isle of Man students will be asked to pay more towards their university education if government plans are given the go ahead in Tynwald.
The education department said undergraduates could be asked to pay at least £2,500 a year, from 2014.
Students whose parents earn more than £80,000 will be asked to pay more.
Education minister Tim Crookall said the measures would mean Manx students are still given more help than those from the Channel Islands or England.
"The fiscal challenges facing the Isle of Man mean we have no choice but to ask Tynwald to support these measures," he said.
"However, with many degree courses costing £9,000 a year - and some costing considerably more than that - the Isle of Man Government would still be meeting much of the cost of higher education for most students."
A government spokesman said a loan scheme, with an interest of 5%, would be brought in with repayments starting a year after graduation, provided that a student's income has exceeded £21,000 a year.
Budget savings
Isle of Man education, which currently spends £11m of its £95.8m annual budget on student awards, supports 1,400 Manx students every year.
The changes, said a spokesman, will lead to an annual saving of £4.4m-a-year.
Currently the majority of Manx students have their tuition fees paid in full by the government, with a cap of £9,000 per year.
The exceptions to this rule are dentistry, medicine and veterinary degrees, for which the government will pay more.
It is stressed that all students currently in higher education would not be affected by the move and the changes will be brought in, in full, by September 2014.
In 2011, the education department raised the academic qualifications needed for applications for degree funding.
Grants are now only given to those students who achieve at least two A-Levels at grade C.
To be eligible for a postgraduate grant, Manx students must now gain an upper second degree whereas it was previously a lower second.