Isle of Man clamps down on ash tree imports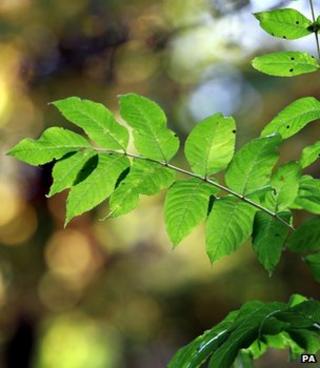 Further measures have been brought in by the Isle of Man government to clamp down on ash tree imports in the wake of a disease which is killing the trees.
In addition to an import ban, environment officers are currently checking each site planted since 2007.
A spokesman said all local nurseries, importers and local authorities are being asked to report suspect trees.
According to government statistics, around a quarter of trees in the Isle of Man are ash.
Environment minister Phil Gawne said the outbreak, should it arrive on Manx shores, could devastate the island's countryside.
He added: "It has caused widespread damage to ash tree populations in continental Europe and is particularly destructive to young plants.
"We are taking the situation very seriously and have taken these further measures to ensure the island remains disease-free."
Ash dieback has been confirmed at more than 100 sites across the UK, with woodlands in Norfolk, Suffolk, Kent and Essex among the worst affected.
The Manx Wildlife Trust has begun a survey to monitor the local ash population and the department is asking that people visiting woodland or glens clean their boots and bicycle tyres.
Dieback, caused by the Chalara fraxinea fungus, was first recorded in eastern Europe in 1992 and spread over two decades to infect most of the continent.
The first confirmed case in the UK was recorded at a nursery in Buckinghamshire in March 2012.
The Forestry Commission in Great Britain has issued guidance on how to identify the disease.