Isle of Man TT beer tent site 'up for tender'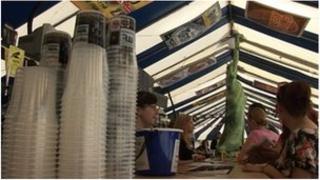 A car park occupied by the Bushy's beer tent during the Isle of Man TT fortnight has been put out to tender by Douglas Borough Council.
The brewery's tent at the Bottleneck car park in Douglas has been a fixture of the TT festival for 15 years.
Council leader David Christian said it had done a "great job over the years", but he wanted to ensure rate-payers were getting "value for money".
The brewery's current three-year lease ended this year.
'No sentimentality'
Bushy's owner Martin Brunnschweiler said: "We have operated the tent every year since 1997, including 2001 when the TT races were cancelled due to the foot and mouth crisis and we made a huge loss.
"But I understand there's no sentimentality when it comes to public finances."
Councillor Ritchie McNicholl said: "The TT is more than 100-years old so on that scale 15 years is not long at all.
"The Bushy's tent does have a massive following and Martin [Brunnschweiler] does now how to run the site extremely well and how to attract people with the right entertainment."
According to Mr Christian, the council loses in the region of £6k from that site while the car park is closed for the TT fortnight.
He said: "I think we need to prove to the rate payers of Douglas that they are getting the best possible income for the site, because it does inconvenience a large number of people by suspending parking."
A spokesman from Douglas Borough Council said tenders would be open to a range of different business ideas and Bushy's would be invited to apply.